Templates can be customized allowing you to easily create tools that meet the specific needs of any response.

To customize a template or create a new one, first open the Admin Area then navigate to Templates and select the template type you wish to customize or create.

Template Types

Situation

The "Situation" is the first page you will be directed to after opening a new channel. The situation contains specific information about the channel such as the event name, status, location, start & finish time and any other information you feel is important.

Personnel

You can add data fields specific to the personnel in the channel such as Time In/Out, Roles and Assigned Tasks.

Roles

You can customize the roles displayed in the channel based on the organizational structure of your organization such as Incident Commander, Captin, Team Leader or Officer In Charge.

Status Boards

Status Boars allow you to create your own tools which will display data on the Dashboard such as Infrastructure Conditions, Damage Costs, Resource Requests or Team Assignments.

Tasks

Tasks that need to be completed are easily tracked by using the default tasks template or create your own to track specific types of tasks such as infrastructure inspections or activation checklists.

Forms

You can quickly and easily replicate paper forms that your organization utilizes allowing simple completion in an online, collaborative and completely auditable environment.





Adding Sections and Fields

When customizing or creating the above templates there are a number of fields that can be created. To get started, select the [Add Section] icon then create the fields below. Additional fields can be created in all directions by selecting the orange + icon

aswell as additional sections by selecting the [Add Section] icon.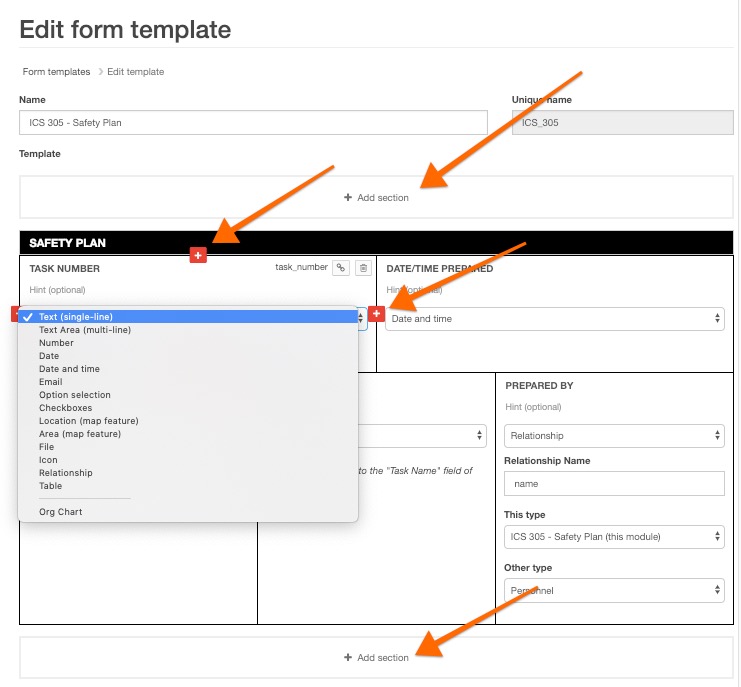 Linked Fields and Relationships

Linked Fields allow data to be auto-filled from specific fields in the Situation form. To link a field, select the chain link icon in the top right of the field.

Relationship fields allow data to be linked between Status Boards, To create a relationship field, [Relationship] from the drop-down menu.